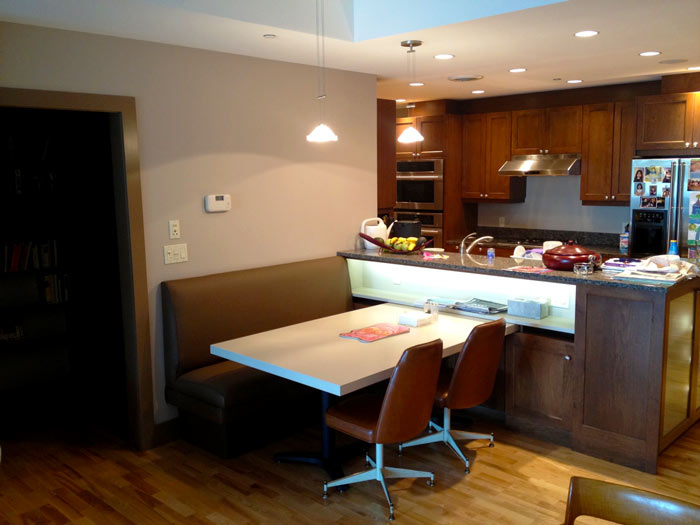 Your dream home isn't being built by anyone else, and it won't be a reality until you make it one. Farkas Associates, Architects is ready to help you bring that vision to life. As the foremost residential architects in Pittsburgh, Wilkinsburg, Swissvale, and Allegheny County, PA, we have the insight and experience you're looking for when it comes to taking your ideas, putting them on paper and hammering them into reality.
Remodeling Work
Like your current location, but want to make modifications to your home to better fit your lifestyle or family? Remodeling is the smart option. Using comprehensive architectural designs in Pittsburgh, PA, our residential architects are able to help you better plan out your existing space to ensure you're making the right improvements to your home.
Our remodeling abilities span the entire interior of your home, from your living room to the bedrooms, kitchens to bathrooms and beyond. We can advise, make suggestions, talk you through your needs and wants, and bring it all together in a grand design that exceeds your highest expectations.
Additions and Garages
Sometimes your living space is perfect, but it's the amenities that are lacking. If you're missing a laundry room, want to add a garage or are looking into house extensions in Pittsburgh, PA, we're the team to tackle the job. We'll help you plan for your addition, no matter the size, and make sure it integrates beautifully with your existing property.
Interior Design & Exterior Renovations
Design makes all the difference. When it comes to the aesthetics of your home's design, we leave no stone unturned and cut no corners in pursuit of perfection. From space planning and allocation, to features and accents, our specialty is house interior design in Pittsburgh, PA. Outside, we're focused on decks, patios and gazeebos, and can advise you on how to plan a façade that boosts your curb appeal sky high.
Create Your Dream Home
Whether we're helping you remodel your existing space into something completely personal to you or we're assisting with space planning and house interior design in Pittsburgh, PA, trust Farkas Associates, Architects to provide you with top-level work. There's a reason we're among the most trusted residential architects in the region!
Contact us today at 412-422-1712 to start planning your designs and bringing your ideal residential space to life. Whether it's home additions or remodeling, we're ready to help!